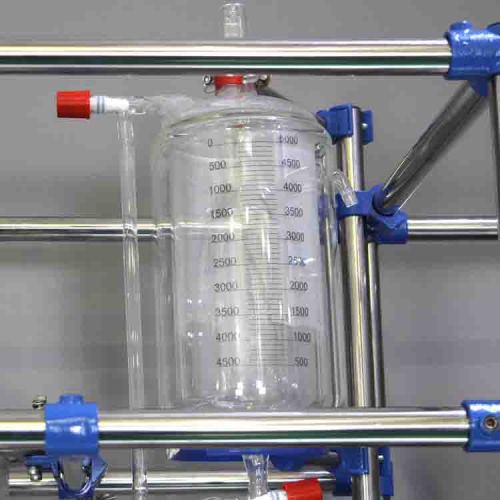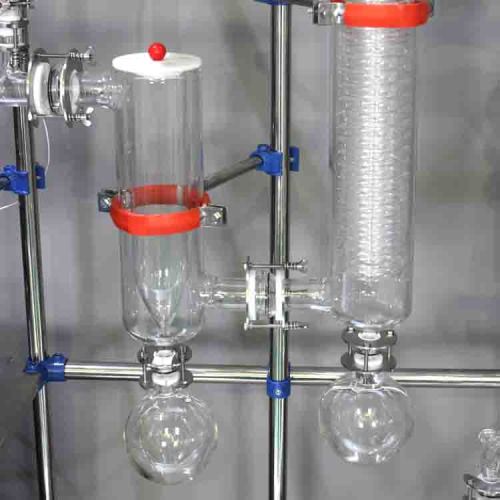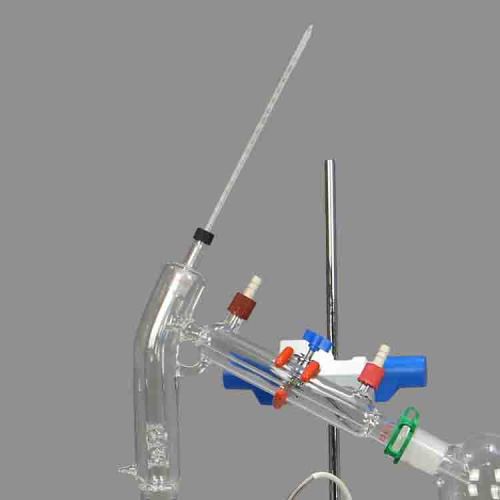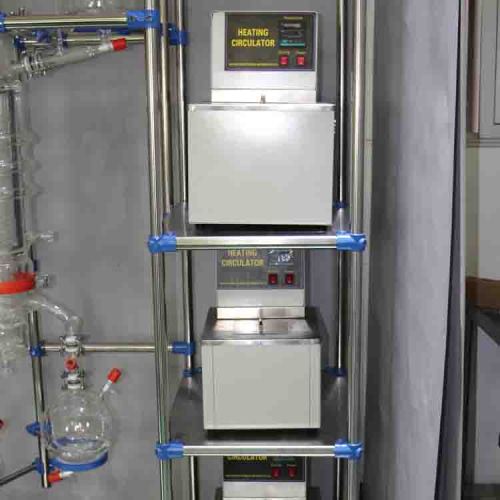 LTSP-50 Automatic Hemp Essential Oil Short Path Molecular Distillation Equipment
Item specifics
Model

LTSP-50
Evaporation Area m2

15
Feeding Rate L/h

200-500
Feeding Method

High-precision gear pump
Receiving Method

Continuous discharge pump
Equipment Height(mm)

7500
Max Speed(rpm)

50-350
Operation Temperature

Up to 350C
Vacuum Level(mbar)

Low to 0.001 mbar
Feeding Mode

Gear pump for automatic and continuous feeding
Description
LTSP-5 Hemp CBD Oil Short Path Extractor Distillation Equipment
LTSP-50 Automatic Hemp Essential Oil Short Path Molecular Distillation Equipment
Brief Introduction: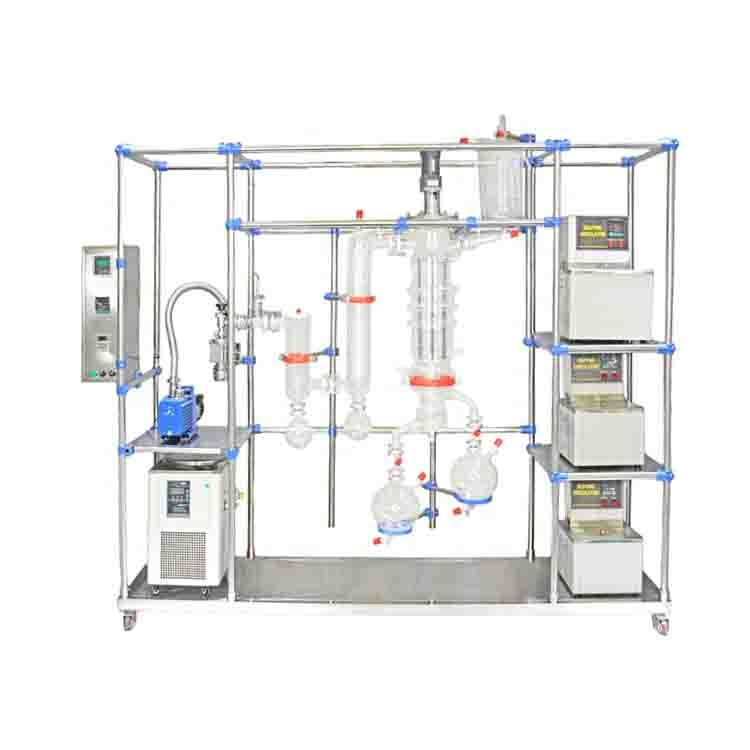 LTPM CHINA molecular distillation, also called molecular distiller, it is a process of separation, purification and concentration of natural products, complex and thermally sensitive molecules for example vitamins and polyunsaturated fatty acids.
Molecular Distillation is a special liquid-liquid separation technology, which is different from traditional distillation on the difference boiling point. This is a kind of distillation in high vacuum environment, for the difference of material molecular movement free path, was carried out in the heat sensitive materialor high boiing point material distillation and purification process. Short Path Distillation is mainly used in chemical, pharmaceutical, petrochemical,spices, plastics, oil and otherfields.
Features of Molecular distillation
1. Evaporation efficiency is very high, can reduce retention time, with minimal time delay.
2. Molecular distillation system is composed of high borosilicate glass 3.3, 316L stainless steel and PTFE, so it has excellent anti-corrosion ability.
3. The main part of the molecular distillation system is made of high borosilicate glass 3.3, and the whole operation process can be well observed.
4. The high precision distillation cylinder body enables the liquid to form a complete integrated film on the heating surface.The inner wall of the barrel body is smooth and bright, not easy to stick to the material and scaling.
5. Imported brand variable frequency speed reduction motor,safe and reliable in operation;equipped with self-cooling fan,it can continuous working for a long time.
6. The magnetic drive system makes it possible to seal the whole machine.the transfer bar of the drive motor does not need to pass through the main distiller.the whole set of the distillation system possess good sealability.The min vacuum pressure can reach 0.001mba.
7. The max temperature of the equipment can up to 250℃/300℃ ,accurate temperature control can achieved.
8. Maximum the theroretical vacuum degree can up to 0.05 mbar or 0.001mbar.(secondary diffusion pump is needed)
9. You can free choose of scraper film forming system and self-cleaning roller system.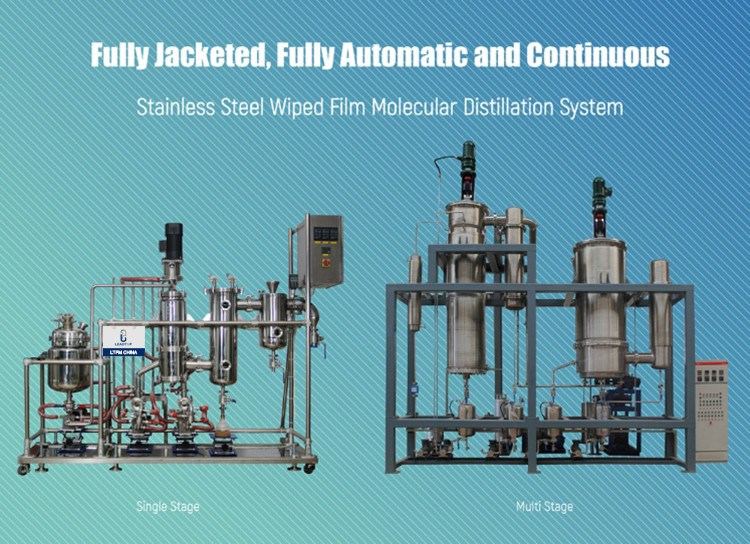 Structure Display: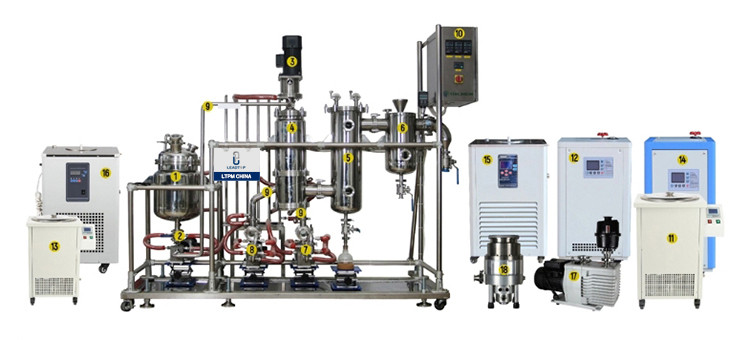 Technical Data:
Turnkey Solution for Stainless Steel Molecular Distillation

Model

LTSP-1

LTSP-2

LTSP-5

LTSP-10

LTSP-15

LTSP-20

LTSP-30

LTSP-50

Evaporation Area m2

0.1

0.2

0.5

1

1.5

2

3

5

Feeding Rate L/h

1-15

5-25

10-60

50-120

60-180

100-200

100-300

200-500

Feeding Method

High-precision gear pump

Receiving Method

Continuous discharge pump

Equipment Height(mm)

2100

2650

3100

4250

4500

5000

6200

7500

Max Speed(rpm)

50-350

Operation Temperature

Up to 350C

Vacuum Level(mbar)

Low to 0.001 mbar

Feeding Mode

Gear pump for automatic and continuous feeding

Collection Mode

Gear pump for automatic and continuous collection
Details Decide Everything:
Client Case:
Application in Plants Oil Distillation:
Certificate:
Our Customers:
Exhibitions:
1.we have seven technicians who gets passport ready to travel all over world to offer service to you.
2.We have 24hours hot line for Technical Support.
3.We get 18hours internet line for technical support.
4.Video camera in workshop to help you adjust and solve machine problem in working situation.
If you are interested in our machine, please feel free to contact us!