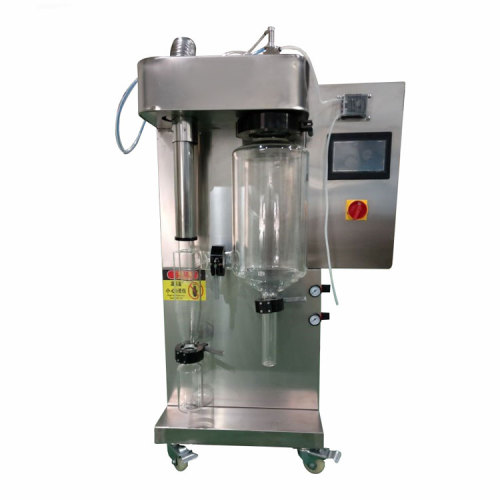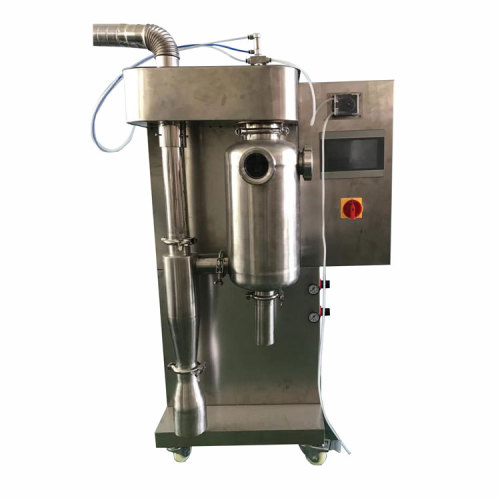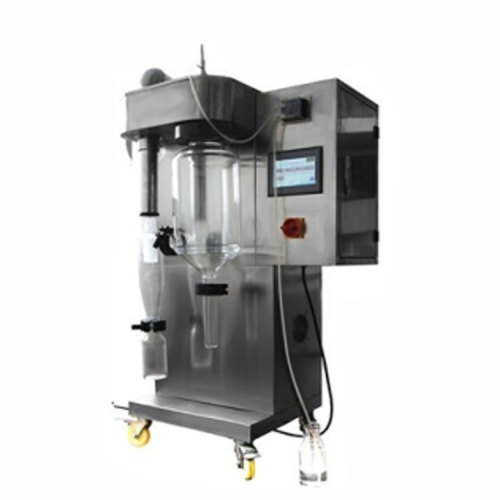 LPG-1.5 Mini Milk spray drying machine equipment for egg
Item specifics
Inlet temperature

100~280℃(Adjustable)
Output temperature

100~150℃(adjustable)
Water evaporation capacity

1500ml/H
Max input capacity

2000ml/H
Electricity heating power

3KW AC220V
Fan

0.2KW Max air flow 5.6m3/min Max air pressure 102
Air compressor

0.2KW Max air production capacity 4.2 m3/h
Air pressure

2~3Bar
Dimension

780 x 560 x 1300 ( mm )L x W x H
Spray nozzle diameter

1.0mm
Weight

125kgs
Description
LPG-1.5 Mini Milk spray drying machine equipment for egg


Machine Description:
Apply to universities, Research Institute and food medicine chemical enterprise laboratory production of micro particles of all solutions such as emulsion or suspension with wide applicability, which is suitable for biological products, bio pesticides, enzymes and other compounds on the thermal sensitivity of drying.
Specific for the following areas: beverage flavors and colors of milk and egg products plants and vegetable extracts of pharmaceutical synthetic thermal plastic polymer material and resin aromatic blood products pottery and superconductor biochemical products dye soap and detergent food adhesive oxide bone meal and dentifrice etc..
Working Principle:
Liquid material is pumped into the top installed rotary disc atomizer by mono pump and atomized into fine droplets inside the drying chamber. Heated and filtered hot air will be blown into the air distributor at the same time. The evenly and swirly distributed hot air completely contact with the droplets for heat transfer. In several seconds, the droplets will be dried into powder and sucked out into the cyclone for discharging via exhaust fan.

Features:
1.Dry faster, the general time is only 5-15 seconds, with instantaneous drying characteristics.
2.Materials take a very short period of time to complete the drying process, adapted to the dry thermosensitive materials, materials to maintain color, smell and taste.
3.Simplify the production process.The operational control is simple,which is suitable for control of production, wet 40-90% of the volume of liquid into a dry powder, reduce the crushing, screening processes.
4.All contact parts are made in SS304. for easy checking and operating purpose, all of the controllers and lights are equipped in one controller.


Drying Process:
Controlling System:
The electronic box is made from SS304, and PLC is adopted for controlling system. All of the data are displayed on touch screen. And the main electronic parts are all imported brands.
Finished Products:
Alumina Powder Herbal Powder Egg Powder
Milk Powder Soy Sauce Powder Polyphenols
Main Techinical Data:
Item

Specification

Inlet temperature

100~280℃(Adjustable)

Output temperature

100~150℃(adjustable)

Water evaporation capacity

1500ml/H

Max input capacity

2000ml/H

Electricity heating power

3KW AC220V

Fan

0.2KW

Max air flow 5.6m3/min

Max air pressure 1020Pa

Air compressor

0.2KW

Max air production capacity 4.2 m3/h

Air pressure

2~3Bar

Dimension

780 x 560 x 1300 ( mm )L x W x H

Spray nozzle diameter

1.0mm

Weight

125kgs
| | | | | |
| --- | --- | --- | --- | --- |
| Item | Name | Brand | Qty. | Unit |
| 1 | Temperature controller | Delta | 1 | Set |
| 2 | PLC | Mitsubishi | 1 | Set |
| 3 | Peristaltic Pump | Sinuo | 1 | pc |
| 4 | Relay | Omron | 1 | pc |
| 5 | Fan | Shanghai | 1 | Set |
| 6 | Spray Gun | Shanghai | 1 | Pc |
| 7 | Clamp | Shanghai | 4 | pcs |
| 8 | Atomization chamber | Shanghai | 1 | pc |
| 9 | Separator | Shanghai | 1 | pc |
| 10 | PT100 Sensor | Shanghai | 2 | pcs |
| 11 | Compressor | Taiwan | 1 | pc |
| 12 | Material collector | Shanghai | 1 | pc |
| 13 | Waste collector | Shanghai | 1 | pc |
| 14 | Insulation | Shanghai | 1 | Set |
| 15 | Heater | Shanghai | 1 | pc |
| 16 | Speed adjusting module | Shanghai | 1 | pc |
| 17 | Solid relay | Mager | 1 | pc |
| 18 | Pressure regulating valve | Taiwan | 1 | pc |
| 19 | Touch screen | Kunlun | 1 | Set |
| 20 | 0.4kw inverter | Jintian | 1 | Set |
| 21 | 90 degree joint | Shanghai | 1 | pc |
| 22 | 20A Fuse | CHNT | 1 | pc |
| 23 | Fan | Sanxie | 2 | pc |
| 24 | Air exhausting pipe | Shanghai | 1 | pc |
| 25 | Air switch | CHTN | 1 | pc |
| 26 | Temperature sensor | Jiamin | 1 | pc |
| 32 | Peristaltic pipe | Shanghai | 1 | M |
Machine Pictures: