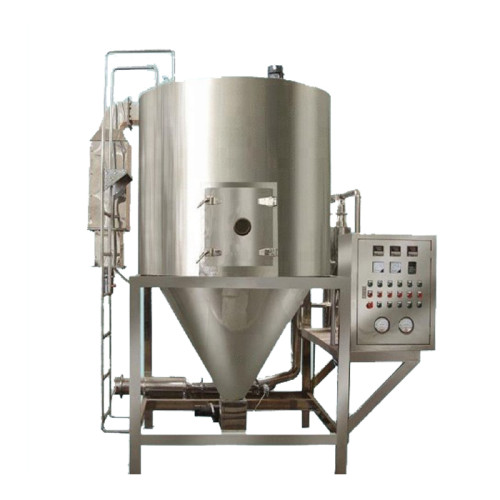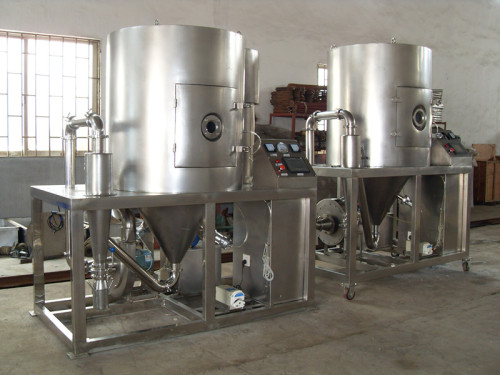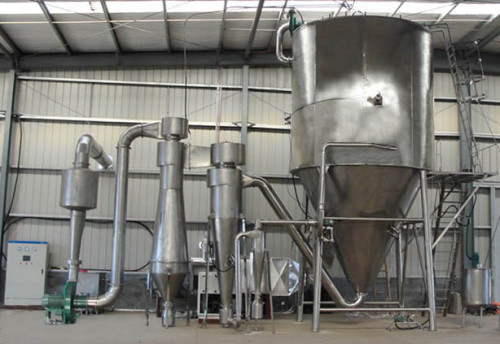 LPG-25 Stainless steel spray drying equipment for detergent egg powder plant
Item specifics
Water Evaporation

25kg/h
Method of Atomizing

High Speed Centrifugal Atomizer (mechanical drive or stepless frequency speed regulation is available)
Revolution of atomizer(rpm)

22000
Diameter of Atomizing disc (mm)

60
Dried Powder Recovery Rate (%)

Around≥95
Air input Temp

140~300℃
Air output Temp

70~90℃
Tower Height

4500mm
E-Heating Power

31.5kw
Hoisting height of Nozzle(m)

2.5
Description
LPG-25 Stainless steel spray drying equipment for detergent egg powder plant


LPG-25 includes:
1. Whole production line as the attached drawing shows.
2. Steam Heating
3. Whole Body Stainless Steel 304
4. Air Flower
5.Button Control with inverter in Atomizer
Machine Introduction:
Spray dryer is a special equipment and is suitable for drying emulsion,suspending liquid,liquor and so on .Particularly it has unique for drying polymers and resins; dyestuff and pigment; ceramics, glass; derust agent; pesticide; carbohydrate, dairy products; detergent and surfactant; fertilizer, organic compound, inorganic compound and so on.

Working Principle:
Liquid material is pumped into the top installed rotary disc atomizer by mono pump and atomized into fine droplets inside the drying chamber. Heated and filtered hot air will be blown into the air distributor at the same time. The evenly and swirly distributed hot air completely contact with the droplets for heat transfer. In several seconds, the droplets will be dried into powder and sucked out into the cyclone for discharging via exhaust fan.

Features:
1.Dry faster, the general time is only 5-15 seconds, with instantaneous drying characteristics.
2.Materials take a very short period of time to complete the drying process, adapted to the dry thermosensitive materials, materials to maintain color, smell and taste.
3.Simplify the production process.The operational control is simple,which is suitable for control of production, wet 40-90% of the volume of liquid into a dry powder, reduce the crushing, screening processes.
4.All contact parts are made in SS304. for easy checking and operating purpose, all of the controllers and lights are equipped in one controller.


Drying Process:
Controlling System:
The electronic box is made from SS304, and PLC is adopted for controlling system. All of the data are displayed on touch screen. And the main electronic parts are all imported brands.
Finished Products:
Alumina Powder Herbal Powder Egg Powder
Milk Powder Soy Sauce Powder Polyphenols
Main Techinical Data:
Item

LPG-25

Water Evaporation

25kg/h

Method of Atomizing

High Speed Centrifugal Atomizer (mechanical drive or stepless frequency speed regulation is available)

Revolution of atomizer(rpm)

22000

Diameter of Atomizing disc (mm)

60

Dried Powder Recovery Rate (%)

Around≥95

Length of Covered Area(m)

4

Width of Covered Area(m)

2.7

Hoisting height of Nozzle(m)

2.5

Air input Temp

140~300℃

Air output Temp

70~90℃

Tower Height

4500mm

E-Heating Power

31.5kw

Notes: The evaporated amount of moisture is contingent upon the characteristics of the raw material, solid content and temperature of hot air at inlet and outlet. Customers can choose the heating method according to the conditions of the local energy source.
Machine Pictures: