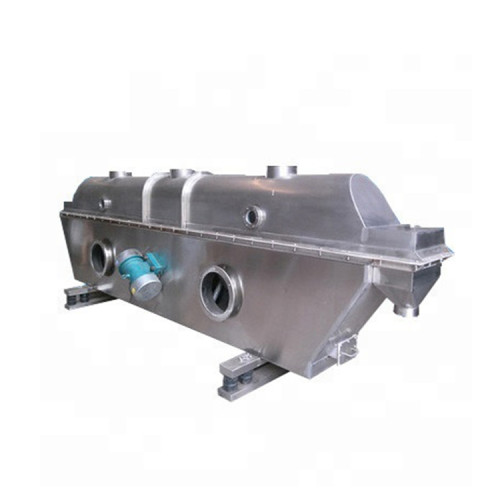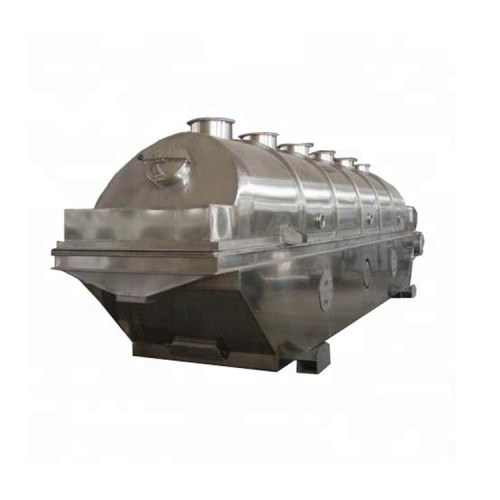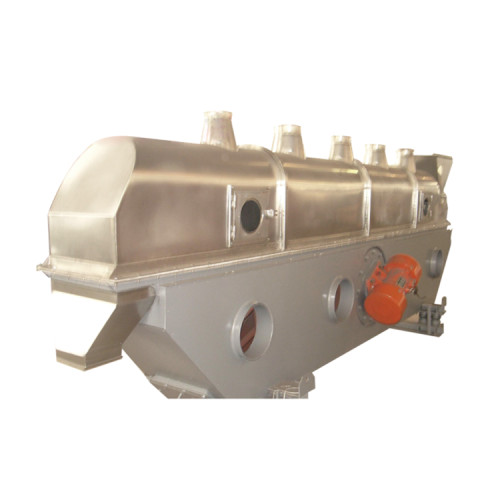 Continuous Vibrating Fluid Bed Drying Machine Equipment
Item specifics
Model

ZLG
Area of Fluid bed (m2)

2.7
Temperature of inlet air (℃)

70-140
Temperature of outlet air (℃)

40-70
Water Evaporation (kg)

70-90
Vibration Motor Power (kw)

1.1*2
Description
Continuous Vibrating Fluid Bed Drying Machine Equipment


Working Principle and Advantages of Fluidized Bed Dryer:
The material has been feed into the salt fluidized bed dryer / fluidized bed cooler, under the dual function of the vibration and air flow, the material move along the fluid bed as throwing forward continuously. Hot air upward through the fluid bed and wet materials from the heat after the exchange, after the cyclone dust emissions from dry materials from discharging from the discharging end
.
Fluid Bed Application:
I> Inorganic: borax, boric acid, glass fibers, ammonium hydrogen fluoride, potassium permanganate, sodium perborate, ammonium thiocyanate, sodium thiocyanate, cobalt sulfate, nickel sulfate, zinc sulfate heptahydrate, ammonium chloride, calcium, strontium chloride, sodium chlorate, strontium, copper sulfate pentahydrate, sodium chlorite, sodium sulfite, ammonium nitrate, calcium nitrate, sodium nitrate, potassium bromide, sodium bromide, sodium sulfate, sodium salt fluidized bed cooler
II> Organics: oxalic acid, succinic acid, hydroquinone, p-nitrobenzoic acid, fumaric acid, pentaerythritol, resorcinol, catechol, calcium hypochlorite, sodium silicate, GDL, sodium gluconate, thiourea, sorbitol, dicyandiamide, iminodiacetonitrile, itaconic acid
III> Fertilizer: potassium dihydrogen phosphate, calcium hydrogen phosphate, monoammonium phosphate, ammonium sulfate, magnesium sulfate heptahydrate
IV> Pesticides: Imidacloprid granules, granules glyphosate
V> Polymer: High-absorbent resin, a polystyrene resin, sodium polyacrylate
VI> Chemicals: washing powder
VII> Chemical additives: methyl cellulose, polyacrylamide, hydroxyethyl cellulose
♦ Food and beverage industry:L-arabinose, acesulfame, erythritol, trehalose, caramel, tartaric acid, coffee, bread crumbs, milk powder, citric acid, potassium citrate, sodium citrate , maltitol, xylose, xylitol, Ru refined, sugar, potassium sorbate, salt, sodium saccharin, monosodium glutamate, sodium iso-VC,
♦ Pharmaceutical medical industry:honeysuckle, paracetamol, taurine, vitamin C
♦ Animal husbandry and fishery industry:canola ,seeds


Features of Fluid Bed Dryer:
The vibration is created by motor. It is stable in operation and convenient in maintenance, low noise and long life.
High heat efficiency, raw material is heated evenly and heat exchange is fully used and dry capacity is high. Compared with ordinary drier, the energy can be saved about 30%. The state of fluidization is uniform and no dead gaps or broken phenomenon so as to have dry, cool products.
It is good in regulation and wide in suitability. The thickness of raw material layer and movable speed inside the machine and the amplitude can be adjusted.
It is small for damaging the surface of raw material. The equipment can be used for drying raw materials that are easy broken. The drying effect can not be affected even if raw materials have irregular shape.
It is effective to prevent cross pollution between raw material and air because the equipment adapts fully closed structure. The environment of operation is clean.
You can string multi-set to raised capacity of raw materials, such as polyacrylamide.


Main Technical Parameters:
| | | | |
| --- | --- | --- | --- |
| Number | Item | Unit | Model/specification |
| 1 | Area of Fluid bed | m2 | 2.7 |
| 2 | Temperature of inlet air | ℃ | 70-140 |
| 3 | Temperature of outlet air | ℃ | 40-70 |
| 4 | Water evaporation | kg/h | 70-90 |
| 5 | Vibration Motor Power | kw | 1.1*2 |
| 6 | Model | | ZLG 4.5*0.6 |
Machine Picture: