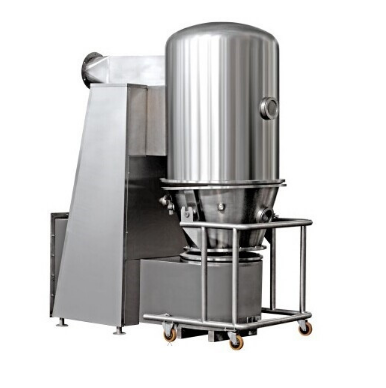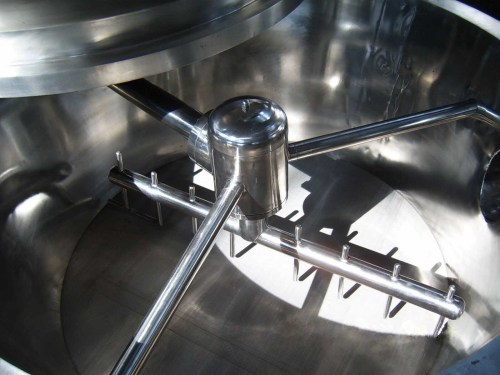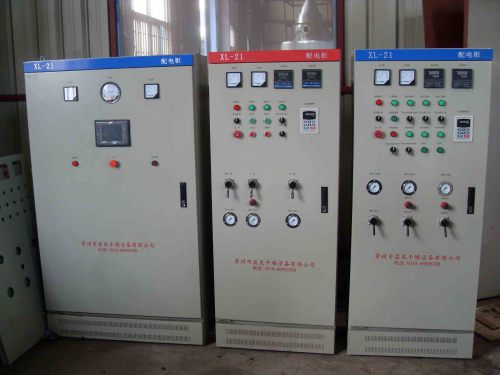 GFG-200 Vibrating Fluid Bed Processor Fluidized Bed Drier price for granulating
Item specifics
Capacity of material bucket(L)

670
Production capacity(kg\batch)

120-200
Temperature of inlet air (℃)

indoor ~100℃ adjusting
Air volume(M3/h) of Blower fan

6032
Stir Speed(r/min) of Blending Motor

37
Steam pressure

0.4MPa
Steam Consumption(kg/h)

282
Power of Motor(kw) of Blower Fan

22
Reference size for installation machine(mm)

3500x1950x3300
Height of the main machine(mm)

3300
Description
GFG-200 Efficiency Boiling Dryer



GFG-200 Includes:
1.Main machine
2.Control cabinet
3.Electric heating pipe
4.Whole body stainless steel 304
5.Button control


Application:
Drying for wet granules and powder materials of screw extruded granules, swaying granules, high-speed mixing granulation in the fields such as Pharmacy, food, feed, chemical industry and so on。
Large granules, small block, viscous block granular materials.
The materials such as Konjak, polyacry lamide and so on , which will have the volume changed during drying.
Machine Installation and Working Staff: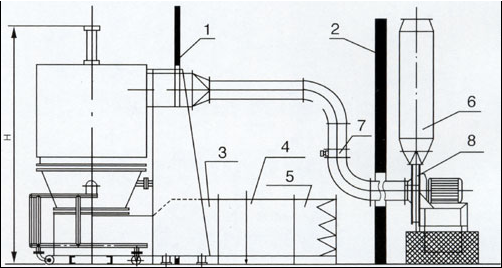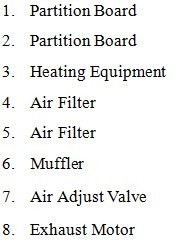 Principle:
After air is purified and heated, then it will be introduced from the bottom of induced-draft fan and passed through the screen plate of raw material. In working chamber, the state of fluidization is formed through stirring and negative effect. The moisture is evaporated and removed rapidly and the raw material is dried quickly.
Feature:
Fluidized bed is round so that to avoid the dead corner.
Inside the bed has installed a mixer, so that to avoid damp materials agglomerating and the channeling during drying.
The cloth-bag filter at the top is made of the special antistatic fibers to ensure the safety of the operation.
Overturning discharge of the machine is convenient, quick and complete.
Operated at sealed negative pressure and designed by GMP.
This equipment can be designed and manufactured to be feeding and discharging automatically as requirements.
Main Technical Data: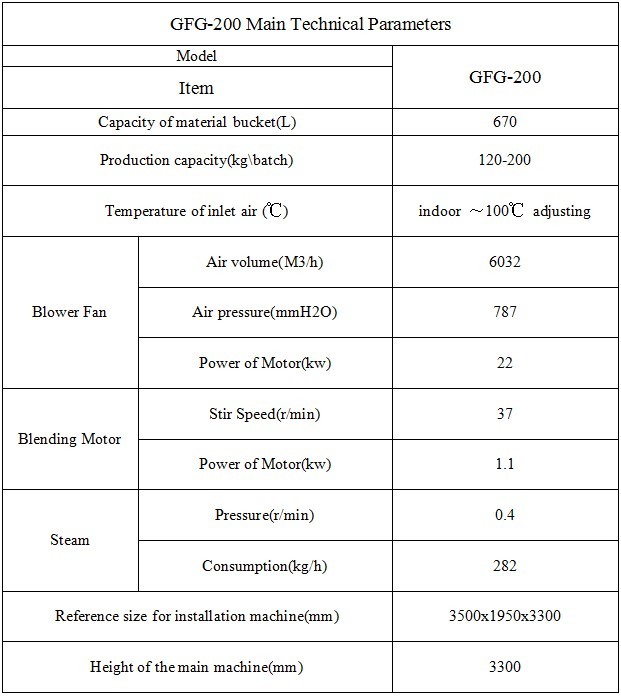 Machine Consist: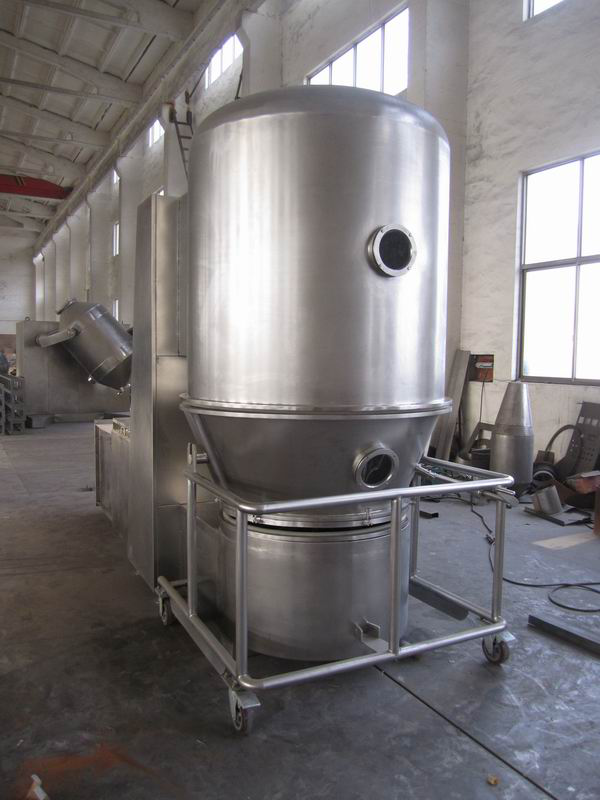 Control Cabinet: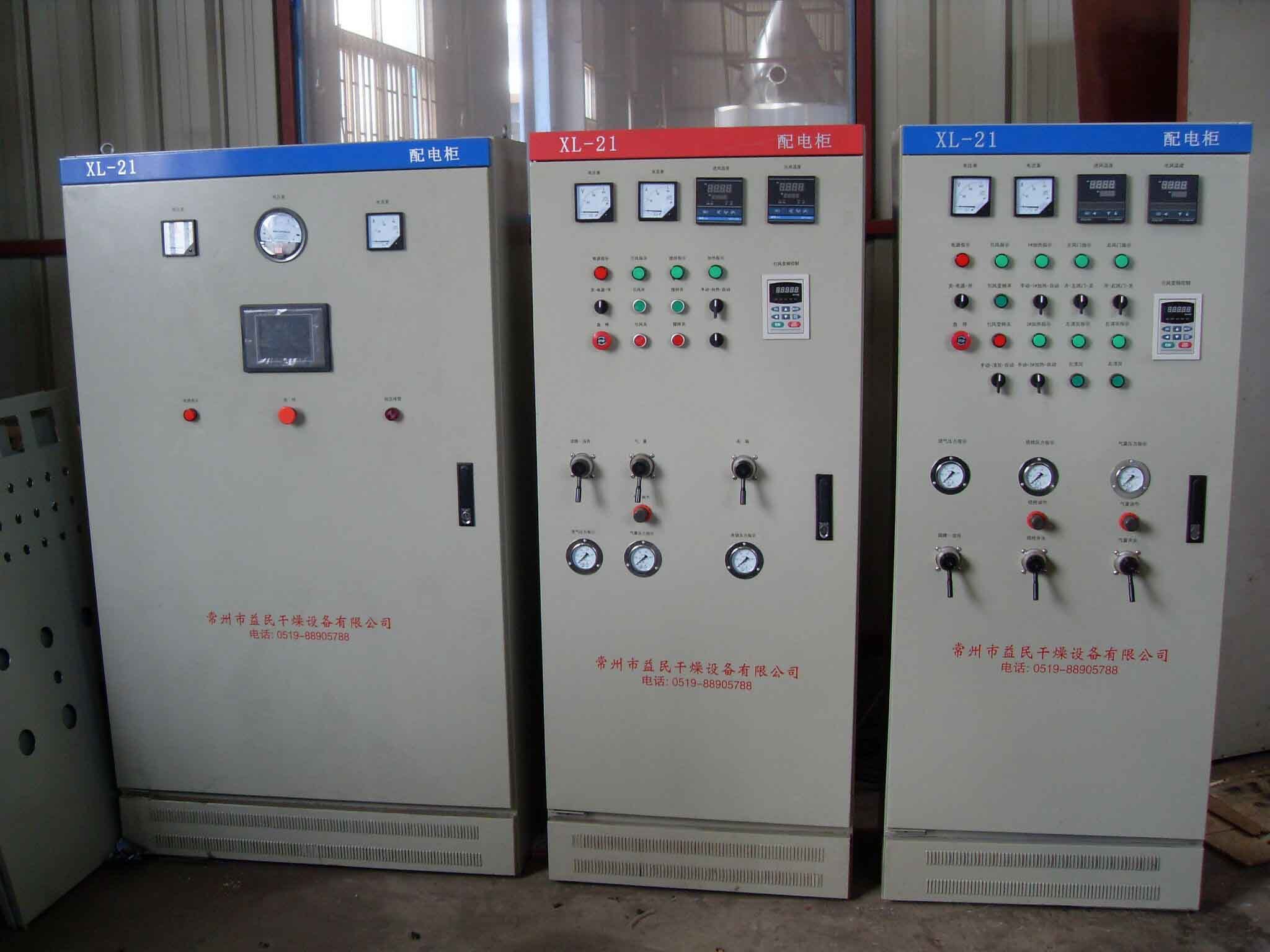 Raw Material trolley with stir: