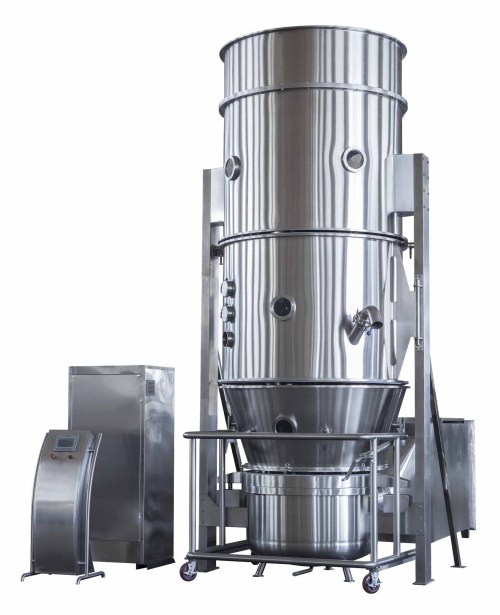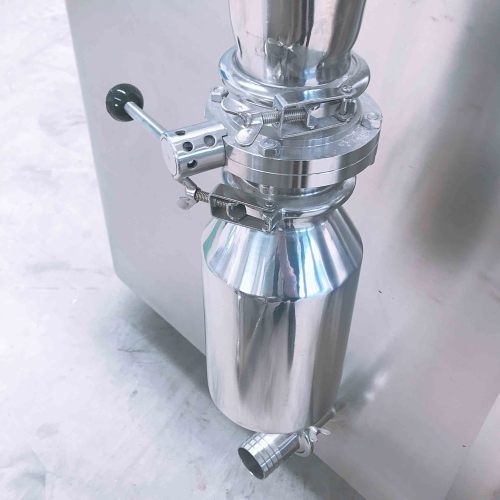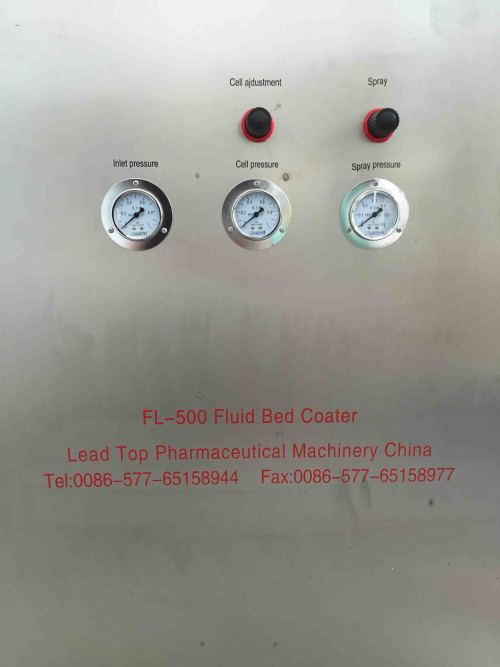 FL-60 Drier Fluid Bed machine for lab,drier,granulator,coating muti-fuction
Item specifics
Model

FL-60
steam consumption

141kg/h
compressured air consupmtion

0.9 m3/min
weight

1100kg
steam pressure

0.3~0.6Mpa
temperature

room temperature -120℃,adjustable
Working time

according to material feature45~90 min
Receiving rate

≥99%
noise

fan and main frame installed separately, noise≤75d
Power of Fan

11kw
Description
FL-60 Drier Fluid Bed machine for lab,drier,granulator,coating muti-fuction

Application:
Medicine granulating and coating Granulating: granule of tablet, quick solved drink, granule used for capsule Coating: granule, pill protection layer, formulated color, slow release, film, coating for intestines solving Foodstuff granulating and coating Sugar, coffee, cocoa powder, cream, powder syrup, amino acid, flavoring, puffed food Granulating for pesticide, pigment, dyestuff Drying for powder, granule, block raw materials. The powder granule in fluid bed appears in the state of fluidization. It is preheated and mixed with clean and heated air. At the same time the solution of adhesive is sprayed into the container. It makes the particles become granulating that contains adhesive. Being of unceasing dry through hot air, the moisture in the granulating is evaporated. The process is carried out continuously. Finally it forms ideal, uniform and porous granules.
Feature:
The flow ability is improved and the dust is reduced, because of Granulator. Its solubility is improved, because of Granulator, because of Granulator, Mixing, Granulator and drying processes are completed in one step inside the machine. The operation is safe because the anti-static filter cloth adopted. It's safe for operator if explosion take place, because explosion device is adopted. No need corner. Therefore the loading and unloading are quick, light and clean, meet the requirements of GMP.
Because of powder granulating, the fluidity can be improved and the powder dust can be reduced. Because of powder granulating, the solubility is improved. The procedures of mixing, granulating and drying can be finished in one step (granulating through one step) Because the atomizer for adhesive adapts multi-fluid spray lance, the particle is uniform and the percent of pass of finished products is raised greatly. There is no dead corner in equipment. It is quick and convenient to feeding and discharge. The equipment is clean through washing.
Choice of Installtion Site:
According to the machine dimension,choose a site which is easy for slinging, roomy and convenient for working, brightly and clean.there must be place for draught fan outside the room.distance between fan and main frame cann,t be too far,or wind power is influenced.
Installation:
1.Installation of main frame
Remove the carbon support, connect the upright column and upper barrel, and also connected to heating cabinet, to form a situation of multipoint support, not easy to fall down. Then, connect the wind tube, fan, silencer and so on. foundation bolt is not needed if machine feet stands reposefully
2.Installation of air resource.
The user buy an air compressor according to the machine model, air pressure ≥0.6Mpa,air consumption between 0.6~1.5M3/min. Then lead the air resource to corresponding joints. make the connections where compressed air is needed.
3.Installation of steam tube (if needed).
The user lead the steam to the inlet of heat-radiation room behind the main frame.to prevent from peening and convenient for exhausting cooling water, make the upper port for steam-in, the under port for steam-out.
Adjusting valve and pressure gage should be installed before steam magnetic valve of steam-in tube.install steam trap for vent
4.Installation of draught fan.
Draught fan should be isolated with main frame,the user should parepare connecting tube by themselves, galvanized sheet or sheet with thickness less than 1.5mm is not allowed. Meantime,the tube's length must be less than 10m.
5. Installation of material feed pump.
The feed pump mustn,t be fixed by bolts.right side or front-right of the main frame is advised for the user to install the pump.pump inlet should be lower than the bond surface,to make the bond easily flow into the pump
bond tank.
Bond tank is provided by the user, usually 40L,set a outlet under it,and connect the outlet to pump inlet.
6.Installtion of electrical appliances.
Details refer to Electrical principle chate.
Humidity display, inlet temperature are setted according to raw material features.when higher than setted values,steam valve is closed automatically. while when lower than setted values,it is started automatically.
Main Technical Data:
item

unit

Model: FL-60

Raw material tank

volume

L

220

diameter

mm

1000

Output capacity

min

kg

30

max

kg

72

fan

air quantity

m3/h

3000

Air pressure

mmH2O

480

power

kw

11

steam consumption

kg/h

141

compressured air consupmtion

m3/min

0.9

weight

kg

1100

steam pressure

Mpa

0.3~0.6

temperature

℃

room temperature -120℃,adjustable

Working time

min

according to material feature45~90

Receiving rate

%

≥99

noize

dB(A)

fan and main frame installed separately, noise≤75dB(A)
Machine Picture: